AAA Games versus Smart TV
Apple
The current Apple TV is merely an outpost for Apple, a foothold in an emerging space. Apple considers user experience to be paramount, and they haven't yet conquered the design clusterfuck described before. That's why you don't have an App Store on Apple TV yet. Have no doubt that Apple is trying. Apps sell devices.
There is a chance that the iPhone or iPad could succeed as the couch controller (there are loads of apps aiming to do just that, including Apple's own), but if you are looking at the big screen, you need operate the controller by feel. The iDevices have no tactile input.
Apple clearly has the design skill to create a proper controller, but they might see such an endeavor as lowering themselves. Designing down to the requirements of games? Gasp! Buttons? Gag!
This has to be said again because so many people think that touchscreens are the future of everything: If you are not looking at the thing you are touching, you need to operate it by feel (tactile input/feedback). An effective controller will need to click, point, or gesture. Ideally, it will have all three. Slinging some content from your touchscreen to the TV is a cool gimmick, but it's not an effective way to operate your TV screen. If you want to select that thing on the left of your TV screen, you should probably be looking at your screen while you do it.
Apple also needs to evolve beyond iTunes for video content. It is archaic and a hassle. It's lovely to never need to plug my iPhone into iTunes to get apps. Reportedly Apple tried to put together a $30/month subscription option for live TV, but the TV networks wouldn't play ball.
Apple is the front-runner to win even with these challenges. Apple TV already has Netflix, and if anyone can negotiate with the big TV content owners to get new TV onto their box, it's Apple.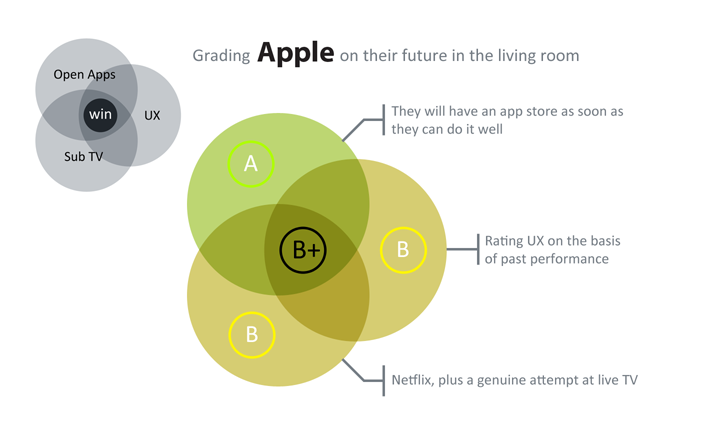 Microsoft
The 360 controller is great for the hardcore. Kinect had a very good launch. Microsoft has the controller angle covered (their best bet might actually be just the voice control component of Kinect paired with a pointing remote with buttons).
Yet, when it comes to open market apps, Microsoft has a poor track record. On the 360, they have nearly asphyxiated the only open marketplace – Xbox Live Indie Games. They clearly consider it a red-headed-stepchild and will never put it front and center like Apple does with the App Store.
In their defense, their strategy is great for the present. It allows them to continue to attract hardcore gamers while remaining in control of the whole user experience with tight certification. Remember that design clusterfuck? They get to avoid it. The rumor is that they will roll out a subscription TV service to go along with their movie rentals and Netflix access – a step in the right direction. Yet, In the long term, they will be disrupted by an open app store.
Microsoft needs a new box. No matter how many Kinects they sell, they will never be able to make the 360 the affordable, accessible device that is needed to attract non-gamers. Those folks won't buy anything with the name "Xbox." It has hardcore gamer stink all over it. They will need something small and simple that the Xbox 720 can extend. Maybe: "Kinect TV."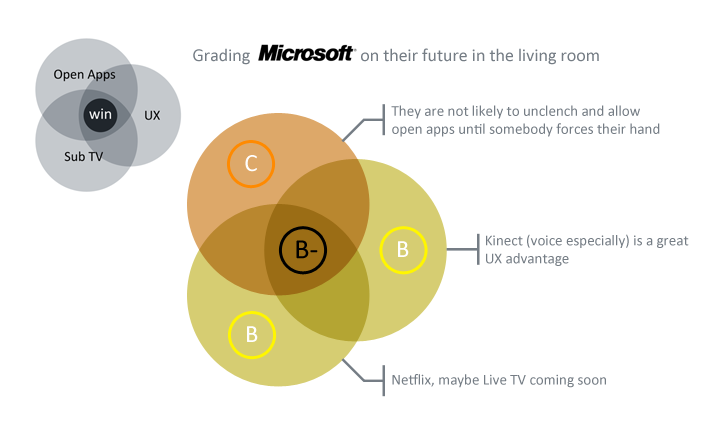 Sony
Sony's strategy is to create a hydra with a hundred tiny heads, none of which have enough bite. They have Bravia TVs that feature GoogleTV. They are putting out a PSP phone and a PSP2. They have a tiny bit of Steamworks coming to the PS3, and they are probably working on a 3D Bluray player that doubles as a fancy hat. All of these things are Sony cool.
It appears Sony is too distributed to create the far-reaching service that will be required to win the living room. Software and services are catastrophic weaknesses for them.
Sony is good at hardware, Google is good at software. . . A "Homestation" GoogleTV device that uses a next-gen Move as a controller could be incredible. A step in this direction would be offering Google TV on the PS3. Would Sony do that if it meant free Google App Store games alongside the Playstation Store? Probably not.
On the positive side, the Playstation brand is very strong and Sony owns spectacular game developers with great franchises. Sony appears well prepared to build a $900 PS4. They could position themselves so distantly into the realm of the AAAA that they remain untouched by the raging battles around Smart TV, but that would be a colossally expensive bet.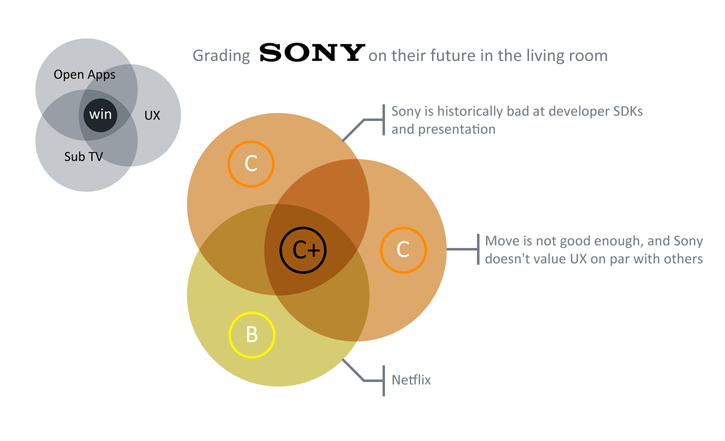 Nintendo
Nintendo doesn't give a crap. The DS and Wii can print money, remember?
They don't need to own the living room and they don't want to. They are happy to keep their box as an add-on toy. I think they look at the iPhone vs DS situation (both are healthy), and they're not too worried about the living room.
But, I'm not so sure they shouldn't be. Whatever magic controller wins this war might be better than the Wii-mote or whatever Nintendo is cooking up for the Wii HD. The accessible style of games that Apple will bring could steal the kids from the Wii. If the Wii discovered blue ocean, my illustration at the beginning is about as red-ocean as it gets. The Wii gameplan won't work a second time and it's not clear if Nintendo has another waggle up its sleeve.
Apple TV can't have an app store without a Wii-like controller – it just wont work. Apple and Google need the controller to make an impact at all, forget about games. But, once they have the controller and the UX, games are enabled with great potential, just like iOS and Facebook enabled games. Nintendo had better watch out.