DISCLAIMER: This is a speculative opinion piece based on public information. These opinions are my own and do not represent my employer.
The game industry is about to get flipped. The console in the living room has long been the king platform for games, but these days the living room is different. Only blockbusters like Call of Duty or breakout indies profit in the arms race of the AAA. The traditional games business as a whole is shrinking.
The old console cycle of simply iterating on graphics hardware is dead, and it's never coming back. Nobody is sure what the next game box will look like. What's more, Apple TV and GoogleTV are trying to bring some of the magic of Android, iOS, and the Web into the living room and are threatening to upend the PS3 and Xbox 360 in the process.
Game consoles are primed to be disrupted, and the next generation of Smart TV might just be the new champion.
Where We Stand
There is massive growth happening in the games industry on smartphones, Facebook, the Web, and Steam. That style of game product – digitally distributed, service oriented, focused on ongoing revenue – is bound for the living room.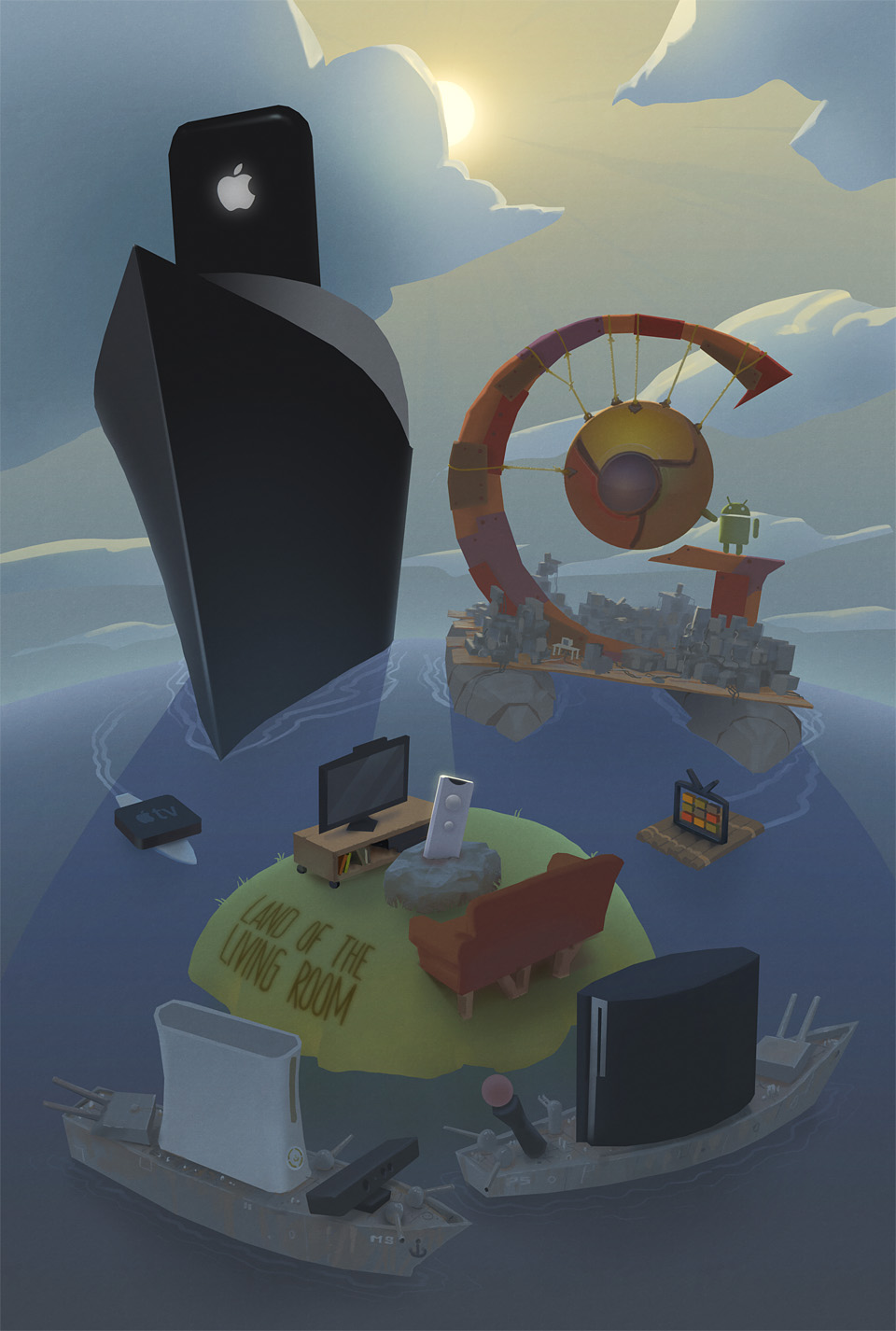 When they get there, an app store will meet the realities of couches and big screen TVs and a very peculiar new box will be born. This new box will have a fancy controller, sort of like a game controller, and it will happen to play games, but it won't be an Xbox or a Playstation.
It's not just games that are in for a shakeup, there is a full on war brewing in the living room around access to video content. There are Smart TVs like those from Samsung, there's Roku and Boxee, and the old giants like Comcast and Verizon are getting smarter about the services they offer. The Web and services like Hulu and Netflix are changing TV behavior forever.
Google and Apple that are the most interesting contenders because they are big and don't keep content out like the game console manufacturers. In this respect they are open. What also makes them interesting is that games will be important part of their arsenal in this battle and that will pit them against Microsoft and Sony's AAA firepower.
It certainly doesn't look good for games in the short term – the traditional business is in decline. But, once the dust settles and the new living room app store reigns supreme, this new box could be incredible for the game industry. Read on for the full analysis:
Where We are Going
The current console cycle has passed it's 5 year mark and is getting a little long in the tooth. Away from the living room, very interesting things have been happening around the App Store, Steam, Facebook, and the resulting indie games boom. Open development and frictionless downloading have proven to be fruitful.
To Microsoft, Sony, and Nintendo, an app store model is not attractive. The race to $1 apps terrifies them. Too bad for them that their current model won't support growth.
A low-power app box that is sold for profit (the Apple model) will have a hundred times as much content as a high-power box sold at a loss (the likely PS4). The old game industry console will get trumped by a great set of services and a great user experience – an app store in the living room that works and makes app management effortless. The decline in the PC graphics card race means that the gap in graphics capabilities will be negligible. There will be very little reason for anyone, even gamers, to prefer a PS4 over what is coming.
The Smart TV Revolution will be like the Smartphone Revolution (but different)
You might think that cable providers are in the same position that the old phone carriers were in in the smartphone revolution. They are primed to be disrupted by great software, UX, and open market apps. But, the apps won't be the same for Smart TV. Try this thought experiment: Item Sales (call it DLC, MTX, or in-app-purchase if you like) is a massive growth business model in games everywhere. What if TV had the same option?
Watch a free HBO show and one-click sub to the rest of the season (then select an option for a special collectors DVD to be mailed to your house).
Instantly pay NBC $5 to make this season of The Office ad-free and available for streaming when you are available.
That TV ad for an iPod can be clicked, taking you to the Apple store right there on your TV.
If iPhones were the smartphone revolution, this is the true potential of Smart TV. Apps on Smart TV will be nothing like apps on smartphones. Apps on phones do things. When you're out and about you need "an app for that" so you can get a thing done and move on. When you're ass-deep in the couch you don't want to do things, you want to be engaged in great content. Apps on Smart TV will be about making content convenient and social.
That may not sound as revolutionary as apps on smartphones, but when you consider the variety and complexity of content available in the living room (TV, News, Movies, DVR, Internet, Games), it becomes clear how much convenience and control actually matter. Smart TV services will be the difference in getting TV content owners to unclench and leap into the future where they will make more money.
There will need to be a standard of interaction – an iOS for the TV. This open standard will attract the best software, and the customers will follow, much like how apps sell iPhones. Apple and Google have the experience in OS building and app focus that can define a new standard of interaction with TVs.
But, wait a second, what do games even have to do with Apple TV or GoogleTV? Why don't they just skip games all together? It's possible they will, but if they manage to build a great user experience (UX) for Video, Apps, and their conflation in Smart TV, it will be a great user experience for games as well. The couch is an even better place for games than your phone or PC. Games will dominate living room app stores even more than they do on mobile and the web.